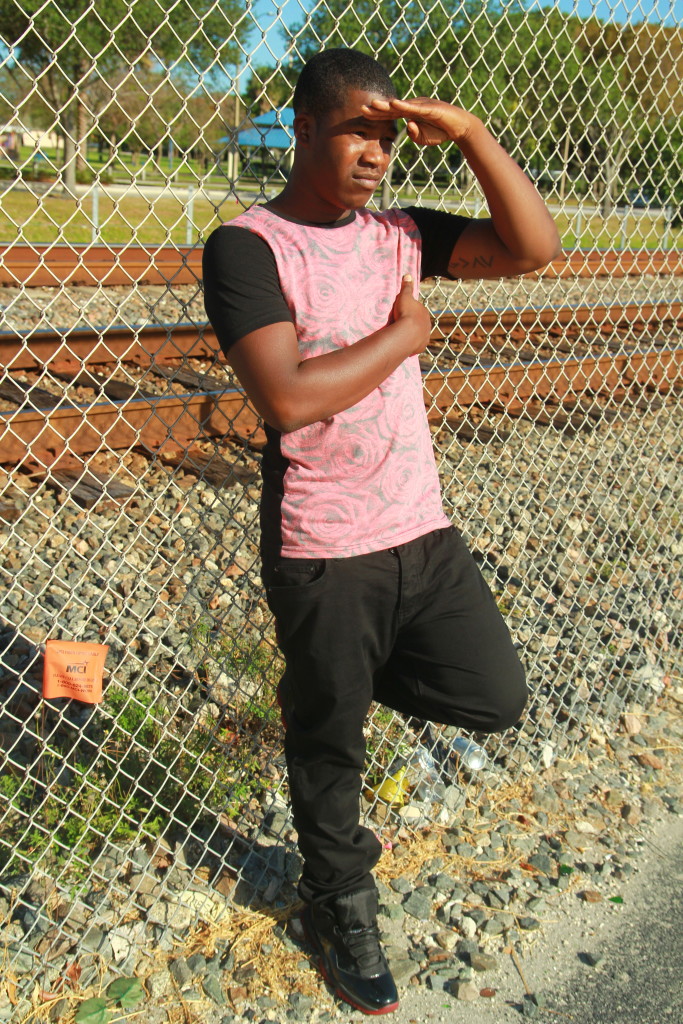 Lenardo Ormsby aka Krysis, is a Jamaican-American rising star, given the talent many claim to possess but few are able to prove. Born in Takoma Park, Maryland to Sylvena Gayle and Lenardo Ormsby, Lenardo was brought into a world full of music notes and laughter. By the time Krysis turned three, the thought and familiarity of what was known to be a "whole home" changed, but the drive and love for music was instilled within him. His family packed up their lives and their memories and made way for Georgia which would soon become his home for a long period of time. By the age of twelve, music was all he knew, and he'd rap amongst his peers in school. Friends would gather, people would listen, and it was then that the star was born. At thirteen, Krysis began to realize his strong need and desire for music, and then learned to write lyrics, giving his style and sound the unique cross between modern American hip hop, and the smooth island feel of Jamaica. Growing up surrounded by negativity and hardships, Krysis found an escape within the walls of melody, and although he found his niche and purpose he kept it to himself not wanting anyone to discourage or stray him from what was ultimately brewing. Music was more of a way to let go and find his inner peace and happiness.
Lenardo was born from a musical background his mother sang in the local church choir, and his father had a DJ career, known as "rapping". As the years went on and Krysis became more and more in tuned with himself and his abilities his confidence grew and he decided to allow more people to know about his talents. When his mother Sylvena came to know about her son's hidden talent, she was pleasantly surprised and soon bought him an old-fashioned karaoke machine that he used to record his first songs. At the initial start of adolescence, Krysis formed friendships and acquaintances with young teens that shared his passion and talents. Eventually he met a young woman whose father had an in-home studio where Krysis would gather amongst striving and driven people who helped him get the experience and better his talents. As many things go, young friends break bonds, and sooner or later Lenardo's connect were sadly cut short but the passion and love for music never wavered. During this time, Krysis kept a notebook where he kept his ideas, rhymes, and basically anything that could potentially become something. His entire dream was kept safe within the bindings of that book, and unfortunately was misplaced. After the loss of his notebook, Krysis took a personal hiatus lyrically, and started to begin the growing pains of young adulthood.
In the year of 2008, Lenardo and his family boarded up once again, but this time on their way to the Sunshine State. Although in an unfamiliar area he still had the passion to start over and reinvent himself. Krysis started a new school and met different people. One person in particular stood out, and in him Lenardo found a friend, an ally, and a colleague. Chevanne "Chevy" Reid was a young man who shared similar interests and ideas as Krysis, and shortly after the duo joined forces, a musical genius was born. At first Lenardo was unaware of Chevy's musical talents as the friendship was built solely on common experiences and mutual laughter. However, as the bond grew stronger the passions and dreams of one another eventually poured out. Over time, the two began freestyling together and developed their own style and flow.
Most of Lenardo's days consisted of music and songwriting. He became involved with the local music lounge, and with them he was provided local shows at birthday parties, poetry jams, and churches. With a new job and positive outlook, Krysis could feel the time coming in where his talents would be heard. After working with the music lounge for a while, Krysis started his search for a better studio, and with the help of social networking, came across a studio by the name of Ocean City where his hit single, "Shotta" was recorded. Krysis ended up associating with a man named Romeo that worked at a salon where his mother worked. Upon hearing one of his songs, Romeo saw the potential and greatness within him and introduced him to his brother who was in the music scene named Dubs Brandon. Dubs Brandon mentored Krysis and helped him with his delivery in his music. On May 26, 2014 Krysis performed at Jerk Fest, where Frankie Paul stopped in the middle of his performance to introduce Krysis to the world. After all of his hard work, and after one of the most monumental moments in his life, doors began to open for Krysis. The story of Lenardo "Krysis" Ormsby is still being written, and the possibilities are completely endless. 2015 is going to be a music enriching year and what was once the untold story will be in plain view for the world to see.