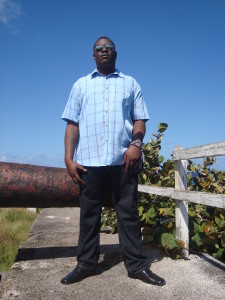 Smokey Montana is a Jamaican rapper born Robert Clarke. He is from the beautiful western parish of Hanover, hailing from the seaside township of Sandy Bay in the parish. A graduate of Merlene Ottey Comprehensive High School, he had a passion for entertainment. Smokey has been involved with music since 2002 but embraced the commercial side of it in 2012 following a meeting with Richard Kerr of Garrison Entertainment. He has songs to his credit such as "If I Should Die", "Shake That Body", "Heney and Weed", "If It's War", "One For Da Money", "Swear to God" and "33 Strategies of War", the latter being a collaborative effort between himself and Lusion. Smokey also has a song titled "More Money More Problems", for which he states, "The inspiration for this one came out of the fact that I had an accident and the old time Jamaican saying if you really want to know yuh friends pretend like yuh dead. The person that I was expecting to see stand by me wasn't there".
Smokey credits his musical inspiration from old school rappers such as Kool Moe Dee, Big Daddy Kane and of more recent the late Tupac Shakur & Notorious B.I.G. Jay Z, DMX, Devin Da Dude, Trick Daddy and Big Pun are also influential artists that inspired him. "Rap allows you to express your feelings, to heal yourself in a way that dancehall reggae doesn't so that's why I chose to do this, rap is deeper" states a well driven Smokey. Montana is also the founder of Krazy Noize Entertainment which is a modest entertainment company operating in the Sandy Bay area.
Currently, Smokey is working on an upcoming mixtape that will be hosted by a local Dj by the name of Dj Slaughta. Additionally, he is preparing for the event entitled "Signature Event" which is an affair where people go and express their style and creativity. With his future in mind, Smokey's goals are to continue doing good music that people can relate to and be inspired by.