Adrian Allen also known as Lusion, is from Great River/Hopewell District, Hanover in Jamaica West Indies. Born May 12, 1991 Lusion's first performance was at an engagement with his mother in a friend's church at the age of 9 years old singing "I'm Longing for a Home". After this first debut people at the church and in the community wanted to hear more of Lusion's wonderful God given talent. Thereafter Lusion continued on for 3 years accompanying his mother, a Deaconess, with performing all over the country in different churches and functions. At the age of 12, he executed his first solo appearance at a church event singing gospel. Surprising to him, he received an overwhelming response from the audience. It was at this moment that he was given the assurance that singing was a goal he wanted to pursue. Lusion continued on to sing solo as well as with choirs at different churches all over Jamaica. His main church choir was Open Bible based out of Hanover.
It's rather natural that many have inquired about the origin of his name Lusion and what is the meaning behind it. At the age of 18, a dear friend BlaydMan, who is a deejay he used to perform with, presented the name Illusion for young Adrian. Although he was welcoming to a stage name, he informed BlaydMan that he is not an illusion, regardless of the fact that people see him for who he is not, he is real. Therefore, he decided he would drop the "IL" and be known alternately by the name Lusion.
Montego Bay is what opened the door to the opportunities for Lusion to showcase his musical talents. In grade 9 Lusion sang Neo's song "So Sick" at his high school and once again the audience went in a frenzy, some even asking for signed autographs. After this eye opening performance, Lusion started writing his own songs. Composed at the age of 15, Lusion achieved his first self-written gospel song entitled "In God We Put Our Trust".
Additionally, Lusion had two self-written songs "The Way You Make Me Feel" followed by "The Streets Ain't Safe". Thanks to a well-known reggae artiste by the name of Chokey Taylor, he was granted the opportunity to perform "The Streets Ain't Safe" at the popular Ms. Hopewell Beauty Pageant in 2008. Chokey Taylor played a significant role as a mentor in Lusion's early years and he is very grateful for having him in his life.
In 2011 Lusion merged with Garrison Entertainment. His first song on the label was entitled "Cry for the Poor" which was a major hit and had heavy rotation on the leading radio stations in Jamaica. With dedication, perseverance and drive Lusion along with the Garrison Entertainment family both knew their combined talents and skills can produce wonderful music. Lusion has also had the honor of working with Black Chiney from this relationship. During this connection the song "Gun Clean" was created on the World Crime Riddim produced by Supa Dups of Black Chiney.
Garrison Entertainment was considered as the foundation for young Lusion as he ascertained many traits and knowledge of the industry from the establishment. He was given the opportunity to collaborate with veteran dancehall artiste Cutty Ranks in a remix single called "Tomorrow" on the Prime Time Boss Riddim produced by Prime Time Beats Records. Lusion went on to work with intriguing dancehall recording artiste Gully Bop on a track called "Different Life". Although Lusion recognized Garrison Entertainment as the root to what started his professional music career, he decided to make a decision on what he felt was right for his career goals and parted ways with Garrison Entertainment in July 2016.
Lusion continues to write and record songs. The beginning of 2016 started off promising for him. He wrote and recorded a song called "Poverty Life" on the Heavens Gate Riddim produced by SG Records and Blue Sky Productions which was released in January 2016. The riddim was an absolute hit and on heavy rotation on radio stations across the globe and in dancehall. Additionally, Lusion was part of the Ghetto Crying Riddim project that was released in March 2016 which featured his track entitled "My Own" produced by DJ Kunteh Records. Since its release it has been a definite favorite.
Lusion's catalog of songs doesn't stop there. July 2016 he released a track called "Get Down" on the Down and Out Riddim produced by C. George from Arthentic Productions. This reggae piece is a reflection of the ongoing violence and brutality against the black race. It has since been getting an outpour of positive feedback. Also in July 2016 "Money Wi Love" on Garrison Entertainment's Straight Line Riddim was released and already getting a serious buzz from his fan base which continues to increase.
Lusion has been making many appearances across Jamaica performing live at various events and radio stations. While continuing to elevate his career and songwriting, Lusion's immediate goals in 2016 are to perform in Reggae Sumfest & Sting. Additionally he wants to continue to have his music aired on major radio stations across the globe. His long term goals are to become an internationally known artist and market himself in shows in the U.S, Canada and Europe. Carrying out appearances in Spain's Rotomsplash and Japan Reggae Splash are also accomplishments that he would like to achieve. Staying focused and positive is how Lusion plans to get closer to his dream. Look out for more awesome material from this singing sensation!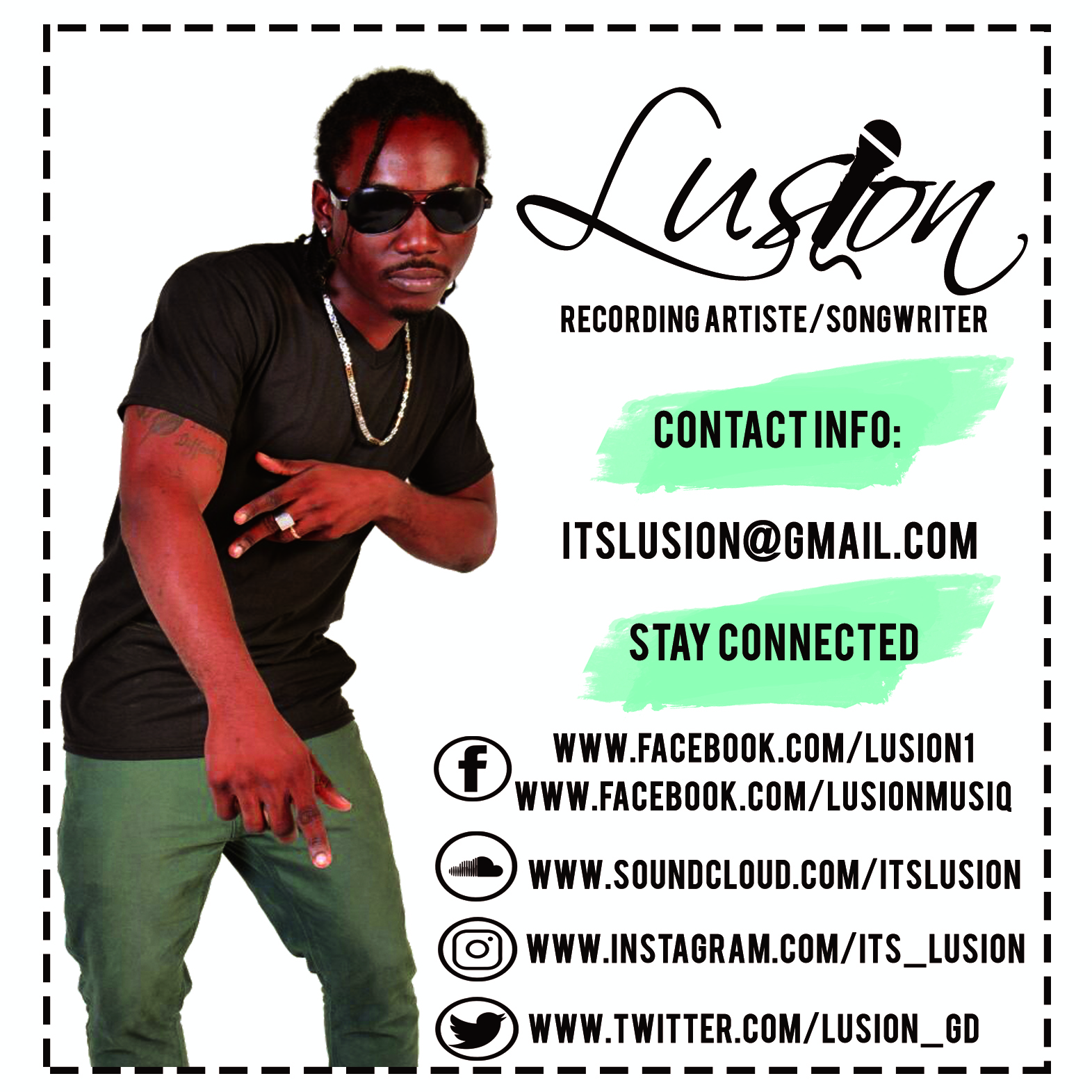 FOR ALL BOOKINGS & DUB REQUESTS
EMAIL ITSLUSION@GMAIL.COM